Our Clients Speak Out...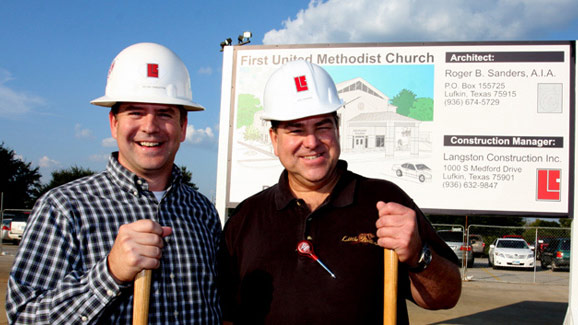 Personalized Service
Langston Construction has been providing superior design/build, construction management and general contracting services around the state of Texas and beyond for the past 20 years.
"Quality first" is our heartbeat and it's the heartbeat of every Langston Construction Team member. We thrive on vision and challenge.
Our service is highly personalized.
We take pride in delivering what Langston Construction customers expect; quality, experience, service and personal attention every step of the way.
Project Spotlights
First Baptist Church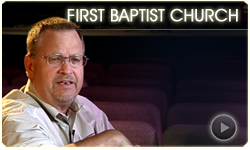 The Langston Team was equal to the challenge of delivering much more than 42,000 square feet of concrete and steel, but also producing a multi-purpose environment that inspires personal growth... and enables spiritual impact... extending First Baptist's reach far beyond this beautiful 75 acre campus... to around the world. Play video
Brookshire Brothers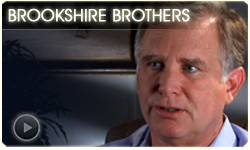 The Brookshire Brothers chain of more than 70 Texas retail grocery stores has come to rely upon Langston Construction for more than 20 years of their growth and expansion. But when two devastating hurricanes took Brookshire Brothers to the brink of total loss, the strength of their relationship with Langston Construction proved to be far more valuable than what money could buy. Play video
Charles Wilson VA Clinic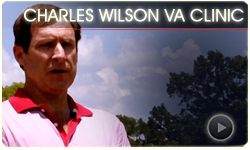 The Charles Wilson VA Clinic has been a huge success.
The clinic's Angelina County location allows veterans much greater access to quality medical treatment. Before, many veterans had to drive to Houston to seek care. Play video
Our Clients
A-1 Smith
Abundant Life - United Methodist Church - Lufkin
Angelina County
Angelina County Airport
Angelina Rehabilitation Center of Lufkin
Arkla Taylor, Inc.
Atkinson Candy Company
Atlas Roofing Corporation
Bank of America
Baskin's Department Store
Big Tin Barn
Boys & Girls Clubs of America
Brookshire Brothers Food and Pharmacy
Buckner Children and Family Services
Budget Chopper Grocery
Campbell Electric, Inc.
Casa Ole' Restaurant
Castleberry's Furniture
Cedar Grove Baptist Church
Lufkin/Angelina County Chamber of Commerce
Champion International – Forest Division
Charles Wilson VA Clinic
City of Livingston
City of Lufkin - Solid Waste facility
City of Lufkin Fire Station No.6
Coldwell Banker Realty
Colmesneil I.S.D.
Community Title Company
Corrigan I.S.D.
Crockett I.S.D.
Croley Dental Clinic
Crossroads Baptist Church
Crown Colony Country Club
Deep East Texas MHMR
Denman Avenue Baptist Church
Dr. & Mrs. Jordan
Heart Institute of East Texas
Dr. Clements, DDS Clinic
Dr. Hutson Hidden Valley Ranch
Jordan Family Dentistry
Palmer Family Dentistry
Dermatology of East Texas - Matthew Rowley, MD
Studer Orthodontics – John Studer, DDS
Dunagan Warehouse
East Texas Professional Credit Union
Etech, Inc.
East Texas Medical Center
Ferrara's Heating and Air
Firestone Complete Auto Care
First Assembly of God - Lufkin
First Bank & Trust - Lufkin
First Baptist Church - Carthage
First Baptist Church - Huntington
First Baptist Church - Livingston
First Presbyterian Church - Livingston
First United Methodist Church - Livingston
First United Methodist Church - Lufkin
Hotel Fredonia – Nacogdoches
Georgia Pacific Resins
Girl Scouts of America
Haglund Law Firm
Harmony Hill Baptist Church
Hudson ISD
Inez Tims Apartments
Insta Cash Pawn
International Paper Company
Keltys Baptist Church
Kurth Memorial Library
Livingston Pediatric Clinic
Lufkin Adult Learning Center
Lufkin Printing Company
Lufkin State Supported Living Center
Brazos Transit District
Malakoff I.S.D.
Morgan Insurance
Morrison Supply
Mueller, Inc.
Nations Bank
Nelson Distribution
New Zion Baptist Church
Pearman Motor Co
Peltier Chevrolet and Cadillac - Lufkin
PineCrest Retirement Community
Pineywoods Sanitation
Polk Oil Company
Regional Blood Center - Lufkin
Regions Bank
Salvation Army of Lufkin
West Loop Animal Clinic
Security & Guaranty Abstract
Southern Supply, inc.
SpringHill Suites by Marriott – Houston
SpringHill Suites by Marriott - Webster
St. Andrew's Catholic Church
St. Cyprian's Episcopal School
Stubblefield Learning Center
TLL Temple Foundation
Temple - Inland
Trinity Baptist Church
Weber Management Company
Whataburger - Crockett
White Rock Baptist Church
Woodland Heights Medical Center
William George Produce Company
Women's Shelter of East Texas
Workforce Solutions
Zavalla I.S.D.
Zelesky Law Office